Night of the Demons
Starting things off, here's a little gem. If you're looking for a great Halloween party movie, then Night of the Demons is definitely the ticket for you. It's a pure 80's hard rock-driven Halloween flick with all of the gore, sex and nudity that 80's horror movies had to offer. It also contains your basic formula of a bunch of teenagers getting together in old abandoned house for a party wherein everything goes to hell. This time around, instead of an old house, it's an old abandoned funeral home, which ups the ante when it comes to the overall creepiness factor. The make-up effects are great and the acting won't win any awards, but it isn't meant to be anything more than what it already is, which is just a fun horror movie. Be sure to keep your eyes peeled for scream queen Linnea Quigley in one of the major roles.
Tourist Trap
Next up we have Tourist Trap. It's probably one of the creepiest yet entertaining horror movies that involve dolls and wax figures in its plot. It's complete lunacy most of the time, but the atmosphere and the visuals will make your skin crawl. It's hard to put your finger on just what makes wax figures, clowns, dolls and mannequins so creepy, but they're used to full effect in this creep classic. The story itself is pretty sparse. A group of kids stumble upon a guy who owns a shop full of these disturbing little things, and while at first he seems like nothing more than a weirdo, we know better later after he bumps them all off one by one... in that eerie mask of his. The point is that if you're looking for something on the bizarre end of the horror movie spectrum, then look no further than Tourist Trap.
Subspecies
Here's an often-overlooked classic from Charles Band and company. Filmed in and around Romania, Subspecies was Charles Band's answer to the vampire genre. It's actually one of the better and more atmospheric of the Full Moon Entertainment's main era of productivity. I'm slightly more partial to the Puppet Master series, but this is probably the best film that the company ever produced. It's also one of the better vampire films to come out of the 90's. Anders Hove is fantastic in his lead role, and there's also some great stop-motion work. I already mentioned the atmospherics, but the setting and set designs are great as well, and the fact that it was shot entirely on location in Romania just makes it all the more creepy. It's not anything amazing story-wise, but for atmosphere, design and just sheer creepiness, it soars. Definitely check it out if you haven't already.
The Abominable Dr. Phibes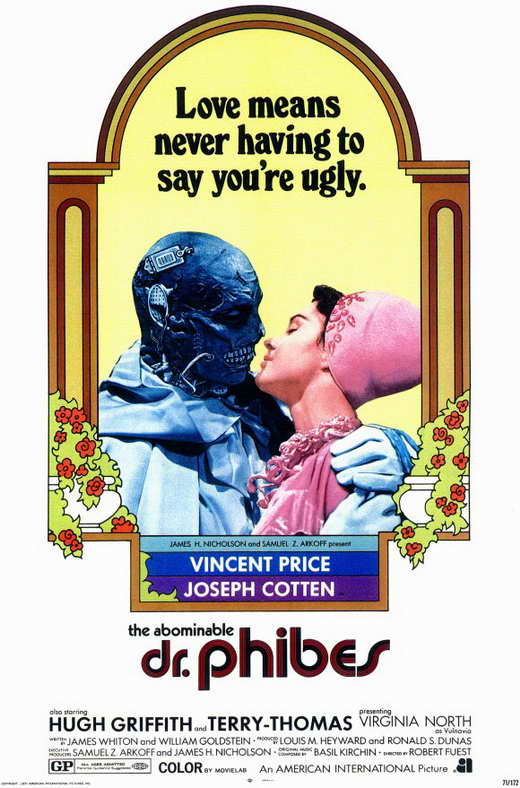 When people point out Vincent Price's films to me, the one that's usually not mentioned is this pre-cursor to the Saw series: The Abominable Dr. Phibes. It's a wonderfully engaging pseudo-horror classic, edging more towards cynicism rather than straight up horror, making it a bit unusual for its time. Dr. Phibes has apparently come back from the dead, and along with his beautiful assistant, he carries out a scheme to murder all of the doctors who couldn't save his dying wife. Each death has a particular theme to it, and while there isn't much gore to be found, there's a bit of creepiness to it. The film has more of the attitude of an Amicus anthology film, but it also has one of Vincent Price's finest performances. It's a very bizarre horror film that will have you both horrified and laughing at the same time.
Let's Scare Jessica to Death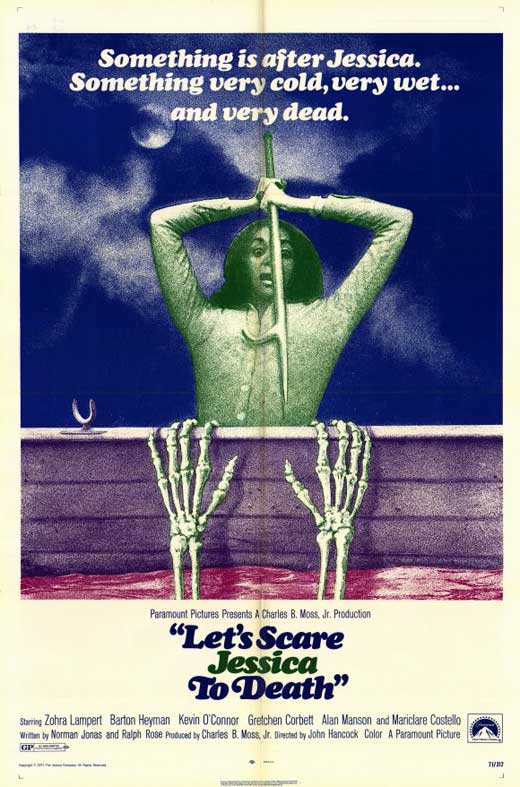 A film that owes to late night TV where it developed a cult following by fans, Let's Scare Jessica to Death is a psychological horror film in the vein of something like Don't Look Now. It's about a woman who has been recently released from an institution and moves into an old house with her husband and a friend. They discover a young woman who has been living in the house in secret, and while Jessica's sanity slowly slips again, strange things begin to occur around her and she becomes suspicious of the young woman's motives. The film plays with the audience's perceptions and keeps you in a constant state of confusion, which is exactly what Jessica is going through, and you go through it with her. Everything is ambiguous, leaving you to make up your own mind about whether Jessica is really crazy or not. The film didn't do so well on its initial release, but if you're looking for something obscure with some merit to it, then check this one out.
Raw Meat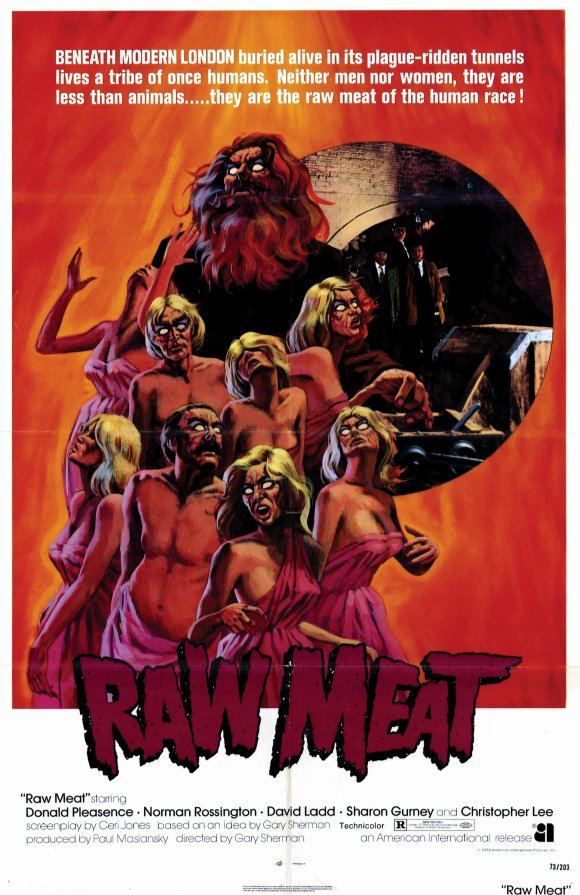 Raw Meat is about a group of tunnel dwellers in the London underground who have been trapped there for decades. Through cannibalism and inbreeding, they survive, but their numbers have dwindled and only one manages to make his way out to get his hands on, well, raw meat. This is one of those films that's generally simple in nature, but the atmosphere and performances are pretty superb, including not just a great performance from Donald Pleasance, but from the aforementioned tunnel dweller, whose only piece of dialogue throughout the entire film is "Mind the doors!". The film can be a bit kooky, and there's plenty of ironies to be found, but there's some genuine suspense and atmosphere to it as well.
Waxwork
Waxwork is a horror comedy about a group of teenagers who go into a wax museum, only to be magically made a part of the exhibits and never heard from again. The movie cleverly squeezes so many horror movie moments into it that it's instantly enjoyable. You have werewolves, vampires, zombies, and even Marquis de Sade on display, literally. It's not so much scary as it fun, sort of in the vein of something like Creepshow. Even though it does have some moments where there's some genuine suspense and horror to it, there's just no way that you can take any of it seriously. It's just a fun little movie that doesn't try to be anything more than what it is. Look no further than John Rhys Davies turning into a werewolf. Need I say more?
Breeders
Breeders, for all intents and purposes, isn't a masterpiece. What it is instead is a bit of curiosity. It feels like a David Cronenberg movie in disguise as a late night cable skin flick. My goodness, there's just heaps of nudity in this movie, and all of it gratuitous. The story involves several young female virgins in Manhattan that are abducted and raped by a parasitic alien being and transformed into an alien themselves. The most memorable scene, at least for me, is when all of the women are in the alien's lair and bathing in, umm, alien fluids. Let me just put it this way: if someone walked in on you during this scene and didn't know what you were watching, they'd automatically think it was pornography. 'Nuff said. So yeah, the movie is definitely not for those who don't care for nudity, but if you're in the mood for something simple that has a bit of entertainment value to it but is only mediocre, then check it out.
The People Under the Stairs
Ah, and then there's Wes Craven. His body of work can range from really awful to extremely good, and somewhere in the middle, you'll find something like The People Under the Stairs. Although the movie failed at the box office upon its initial release, it has since developed a bit of a following. It has an overall odd tone to it, which is more ironic than anything, but it also tries to be a suspense film at the same time. It doesn't quite work, but the movie can be fun if you let it. The plot may not make total sense at times, but it's executed well. Look for an early performance from Ving Rhames before his successful turn as Marsellus Wallace in Pulp Fiction, as well as Silver Bullet star Everett McGill as the leather-clad daddy out to punish the children that are loose in the house.
The Pyjama Girl Case
And last but not least, there's the classic giallo La Ragazza Dal Pigiama Giallo, AKA The Pyjama Girl Case. This film is a stylish but morbid thriller about a girl being found dead and the investigators who are trying to solve her case. Parallel to this is her story as we watch her descent into being murdered. It's a very interesting take on the genre, but the strange thing about it is that it's not really a giallo, yet closely resembles one. It's sort of like if you're a fan of McDonald's and decide to eat at Wendy's instead. The pace can be slow at times, but with a bit of patience, the engrossing story can be rewarding. Well-shot with some great performances (including Ray Milland and the beautiful Dalila Di Lazzaro), it's definitely a classic genre film.
Hopefully these titles will tide you over until next Halloween. If not, then I suggest you get some help.
And that's all from me for now.
- Tim Salmons