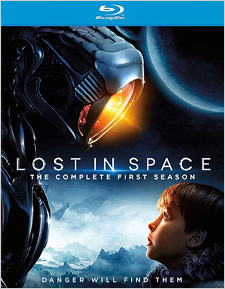 Director
Developed by Matt Sazama and Burk Sharpless (Based on the 1960s Irwin Allen TV series)
Release Date(s)
2018 (June 4, 2019)
Studio(s)
Legendary Television/Applebox/Synthesis/Clickety-Clack/Netflix (20th Century Fox)
Film/Program Grade: B
Video Grade: A
Audio Grade: B+
Extras Grade: C+
Review
The year is 2048. A meteor impact has devastated the environment on Earth, so every possible effort is being made to establish a thriving colony in the Alpha Century system. Luckily for the Robinson family, they've been selected to join the 24th Colony Group aboard the colony ship Resolute. But when disaster strikes halfway through their journey, the Robinsons and several other families must abandon ship in their Jupiter craft. They crash on a nearby planet, but survival there is difficult, as the planet isn't as hospitable as they'd hoped. Things are soon complicated by the arrival of the unstable Dr. Smith (Parker Posy), who isn't who she seems and values her own survival above all else. Things get even more interesting when young Will Robinson (Maxwell Jenkins) discovers that an alien robot has crashed on the planet too… and it may or may not be friendly.
At first, watching the new Lost in Space is an almost perfect storm of frustration. The series gets so much more right than most examples of its genre, yet is hamstrung by characters that do such recklessly stupid things that you wonder how any of them qualified for spaceflight in the first place. But then—if you remember the original Irwin Allen series—you realize that's exactly what Lost in Space is supposed to be. It's the whole premise of the original series. And the more you watch, the more clever this modern update becomes. The cast is terrific, starting with Molly Parker and Toby Stephens as Maureen and John Robinson. Maxwell Jenkins shines as young Will, their son, who serves as the heart of the show. And Mina Sundwall, Taylor Russell, and Ignacio Serricchio contribute well too as the Robinsons' daughters, Penny and Judy, and Don West, a Resolute mechanic who eventually becomes a part of the Jupiter 2 crew. But special notice must be given to the inspired casting of Parker Posy as Dr. Smith (who older fans will know was a male character played with comic brilliance by Jonathan Harris in the 1960s series). There's real chemistry between these actors, which makes the characters' personal bonds more believable. What's more, the producers have modernized the science and production design credibly. They've replaced the original show's trademark goofiness with moments of genuine "Oh my God, we're in space!" awe. And unlike the original show, it's not just the Robinsons who are lost; other families are there too and must all work together, adding to the scope and possibility. Against all odds, this is a smart reimagining and an entertaining sci-fi series you can share with the whole family.
Lost in Space is captured digitally using RED Weapon cameras in 8K. It's finished as a 4K Digital Intermediate and the series is shown at that resolution on Netflix with Dolby Vision HDR. For its Blu-ray release, 20th Century Fox presents all 10 first season episodes on 3 Blu-rays downsampled to 1080p HD at the original 2.00:1 widescreen aspect ratio. Overall image quality is terrific, hampered only by the knowledge that a 4K viewing option is available. Clarity is absolutely beautiful, with nicely refined detail and impressive texturing in surfaces and skin. Colors are rich and well saturated for 8-bit HD—just look at the spacesuits in the pilot episode. Best of all, even without HDR, the contrast is excellent. There's lots of smoke, fog, cloud, snow, and other air density effects on set (and added digitally in post) and yet the darkest areas of the frame are genuinely black. Really, this image is about as good as it could be.
Audio-wise, things couldn't be simpler. You get English 5.1 DTS-HD Master Audio and that's it. The good news is, it's terrific too. The soundstage is largely front and center, but there's great use of the surrounds for atmosphere and creation of space. Dialogue is clean at all times. Directional effects and movement are nice too. There's a great moment in the pilot episode when Judy Robinson fires a flare and you can hear the sizzling projectile soaring away high into the right rear corner. Bass isn't excessive, but there's enough low end to give everything a bit of fullness and heft. Composer Christopher Lennertz does a lovely job with the series' score and it's a genuine thrill to hear John Williams' iconic original series theme in this kind of fidelity. This mix isn't going to put your audio gear to any kind of test, but it's very nice for a contemporary TV mix. Note that optional English subtitles for the Deaf and Hard of Hearing are also available.
Fox's Blu-ray set includes the following extras (in full HD) on Disc Three:
Deleted Scenes (3 scenes – 3:42 in all)
Lost in Space: No Place to Hide (colorized unaired pilot from the original 1960s TV series – in 1.85:1 and HD – 52:12)
Bill and Max: Lost and Found in Space (10:10)
Bill Mumy Visits the Jupiter 2 (7:00)
Designing the Robot (5:20)
Lost in Space Sizzle Reel (3:38)
It's not a lot of material, but it is worth looking at. The colorized unaired pilot from the original Irwin Allen series is interesting (if borrowed from Fox's BD box set of that). It could have done without the colorization, but it's a nice include, especially for those younger fans of the new series who might enjoy seeing where it all started. The Bill and Max featurette is cute, as the pair describe the similarities between the new and original shows. The Designing the Robot piece is interesting too, as you get a look at how the character was reconceived and iterated. Of course, there's no Digital code. If you want the streaming version, you'll find it on Netflix (and again, it's available there in 4K with HDR).
At its heart, Lost in Space is a family-driven adventure series set in space. Legendary TV and Netflix have updated its look with a modern aesthetic and refreshed its themes for the 21st Century. In the 1960s, TV focused on the typical nuclear family. Today, family is where you find it and the new series embraces that idea well. Season Two of Lost in Space arrives on Netflix in November. In the meantime (while it would be great if Fox released a 4K Ultra HD version—and they absolutely should), this Blu-ray set is a decent non-streaming option.
- Bill Hunt
(You can follow Bill on social media at these links: Twitter and Facebook)
Tags
2018
,
20th Century Fox
,
4K Digital Intermediate
,
Bill Hunt
,
Blu-ray
,
Blu-ray Disc
,
Burk Sharpless
,
Christopher Lennertz
,
Danger Will Robinson
,
Dr Smith
,
DTS-HD Master Audio
,
Ignacio Serricchio
,
Irvin Allen
,
John Williams
,
Jupiter 2
,
Legendary Television
,
Lost in Space
,
Lost in Space: The Complete First Season
,
Matt Sazama
,
Maxwell Jenkins
,
Mina Sundwall
,
Molly Parker
,
Netflix Original
,
Parker Posey
,
remake
,
review
,
science fiction
,
Season One
,
space travel
,
Taylor Russell
,
The Digital Bits
,
The Robinsons
,
The Robot
,
Toby Stephens